Customer Relationships. Simplified…
No clutter, no unnecessary functions
While OPEN LEADS™ has many powerful features, the best thing about OPEN LEADS™ is its simplicity. Sure, it's robust — but it's also logical, and intuitive, and easy to learn and use. What's more, we designed OPEN LEADS™ to work for any organization, so you never have to worry about tailoring your business practices to suit your software. OPEN LEADS™ adapts to you, instead of the other way around.
And with our tiered pricing, it will fit any business budget.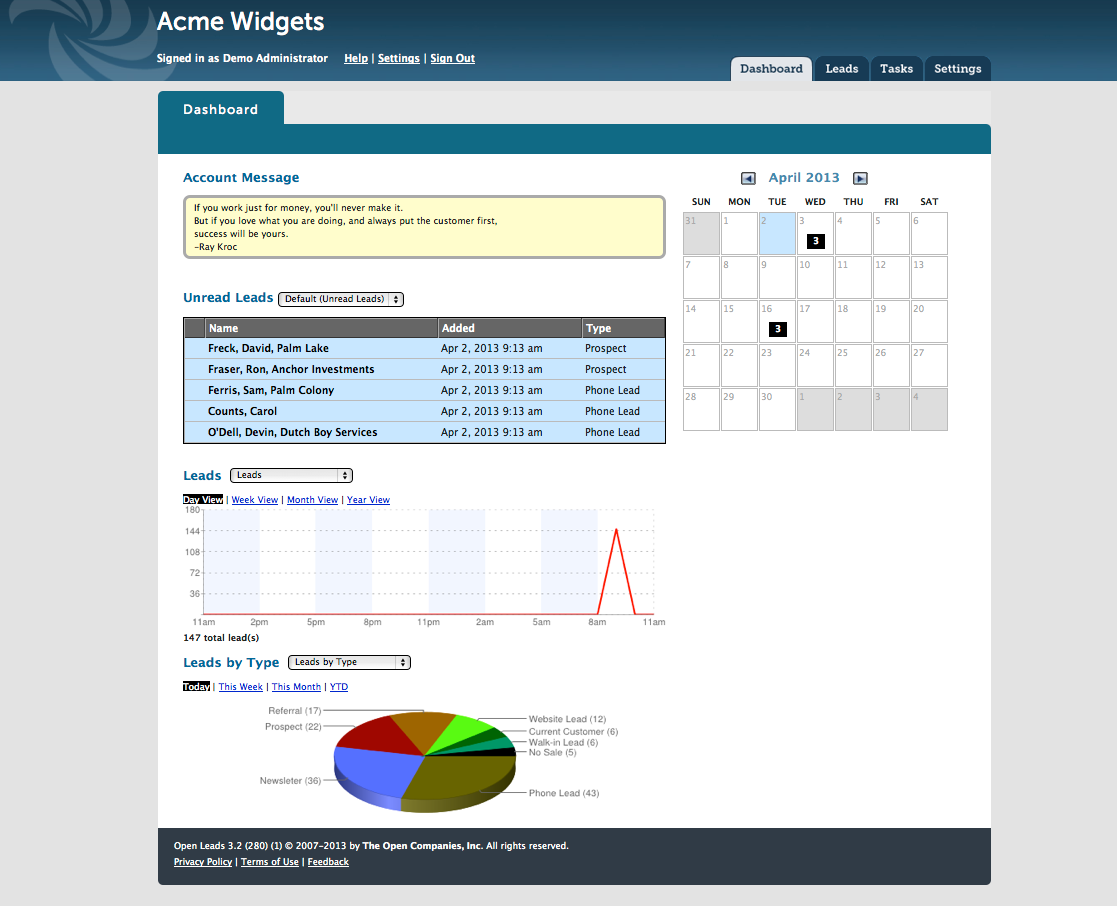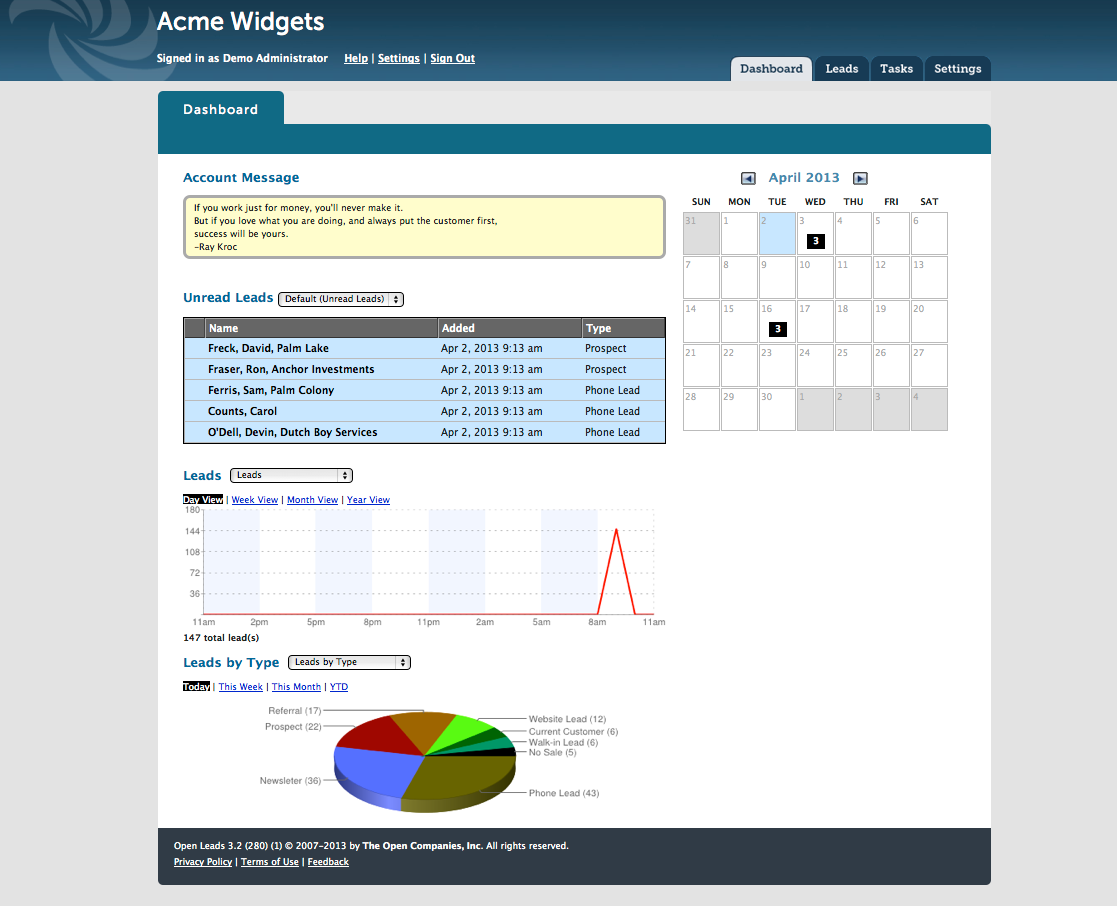 The Dashboard: a snapshot of your activity
The first screen you see when you log into OPEN LEADS™ is the Dashboard. The Dashboard is a snapshot of your account, showing recent unread Leads and graphical representations of account activity. Additionally, you will see a graphical calendar which enables you to quickly view your daily schedule. Dates with numbers indicate days with scheduled tasks. Click on a day to open your Task List on your Tasks Tab for that date.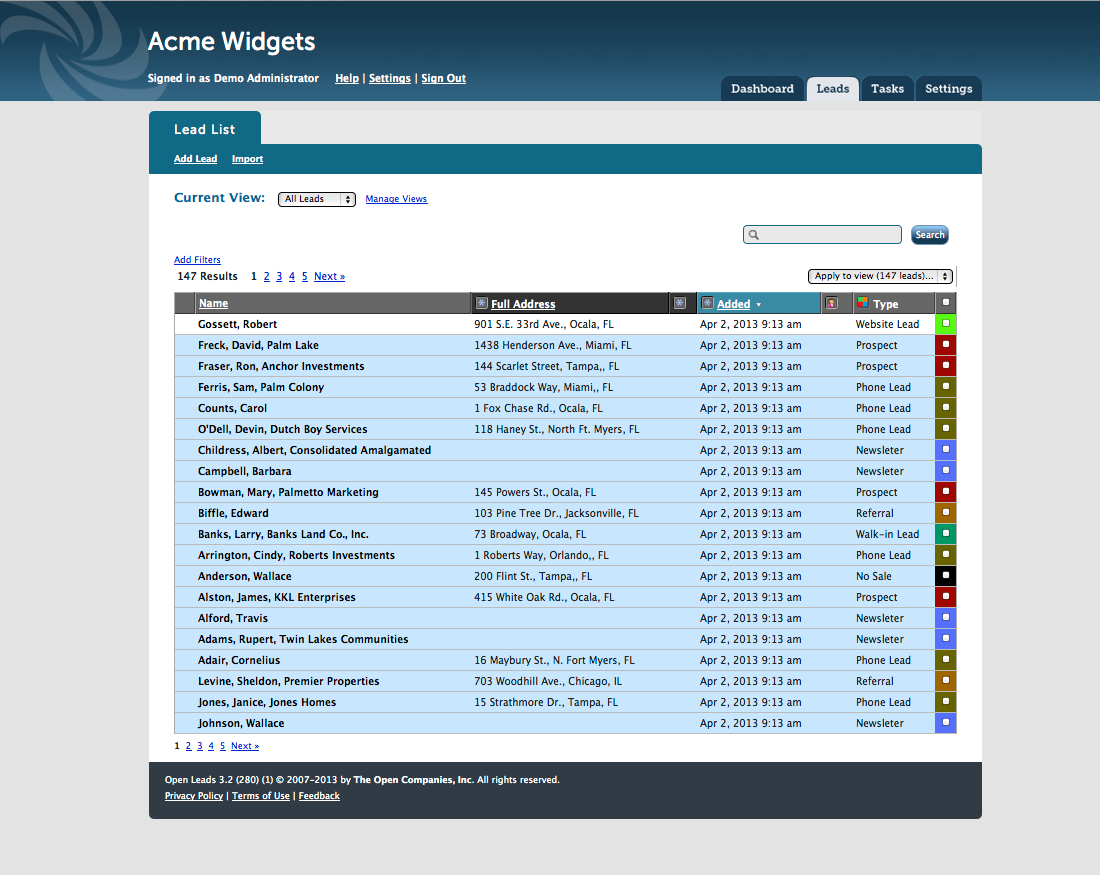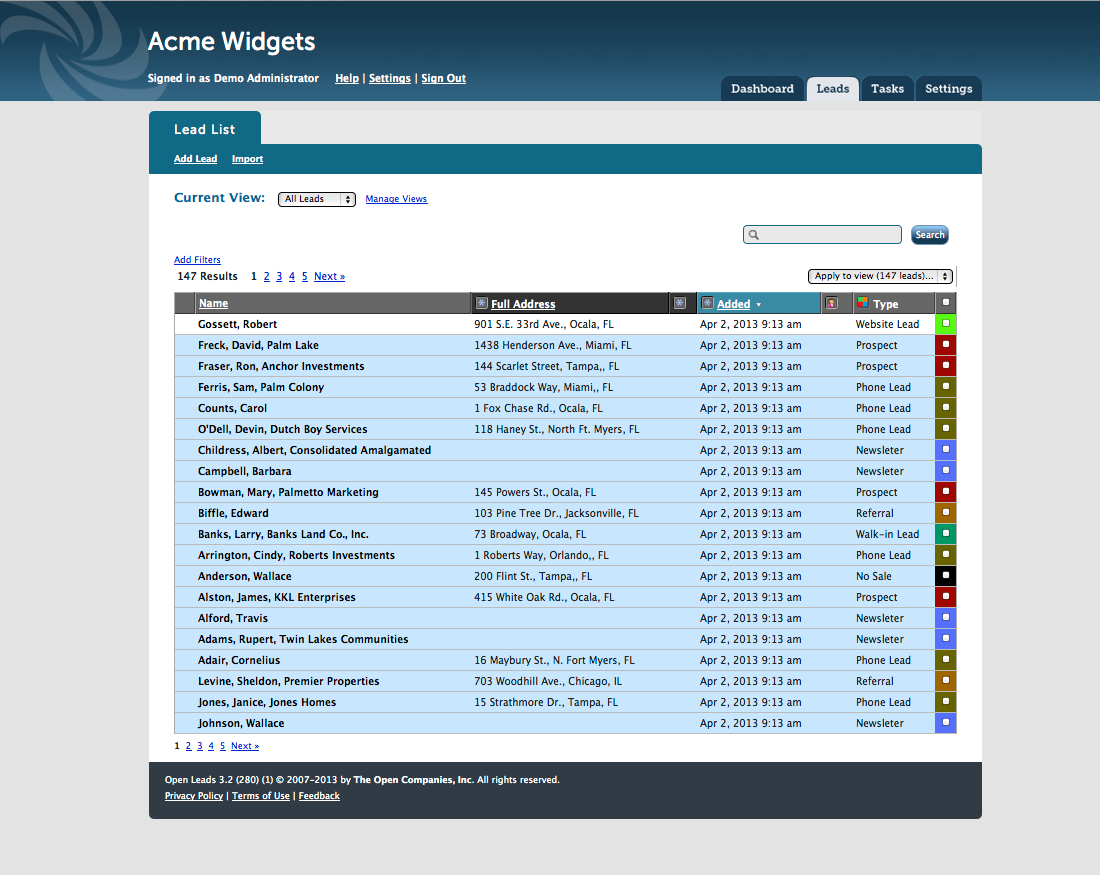 Lead List: view, sort, and manage your sales leads
Leads are viewed from the Lead List, which is accessed via the Leads tab in your account. This Lead List functions much like an email inbox- with new, unread Leads listed at the top and highlighted in blue.
By default the Leads appear in the All Assigned Leads View– which has the Lead's Name, Address, Date Added, and Type (or Types). You can create custom Views to meet your needs and preferences.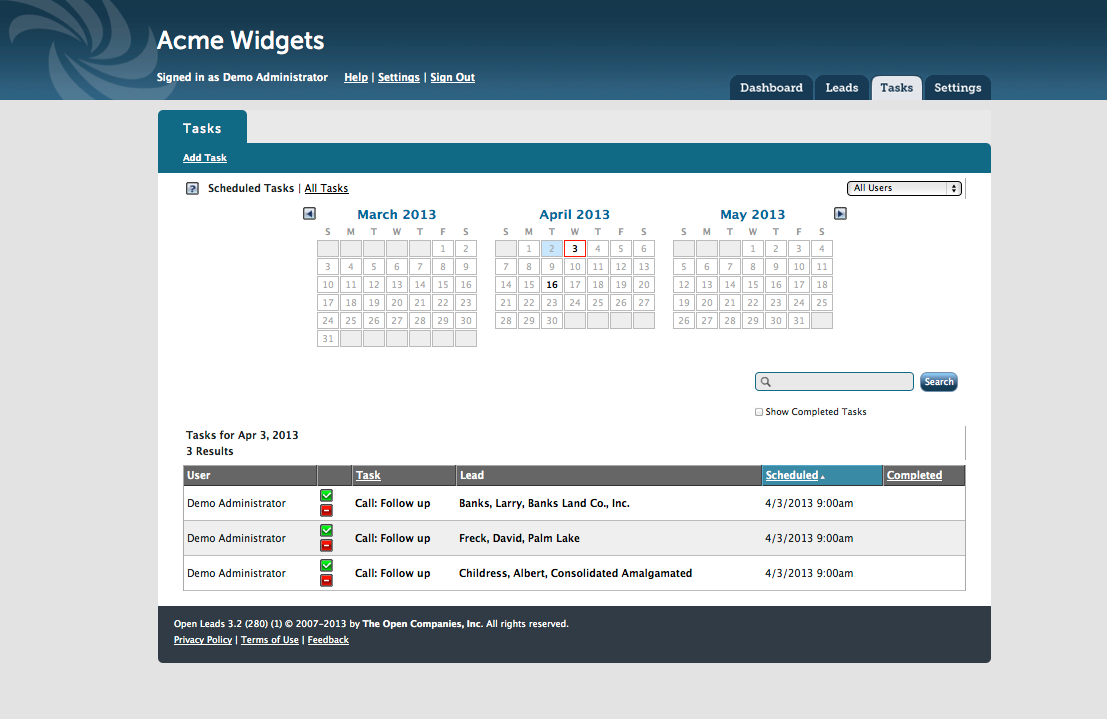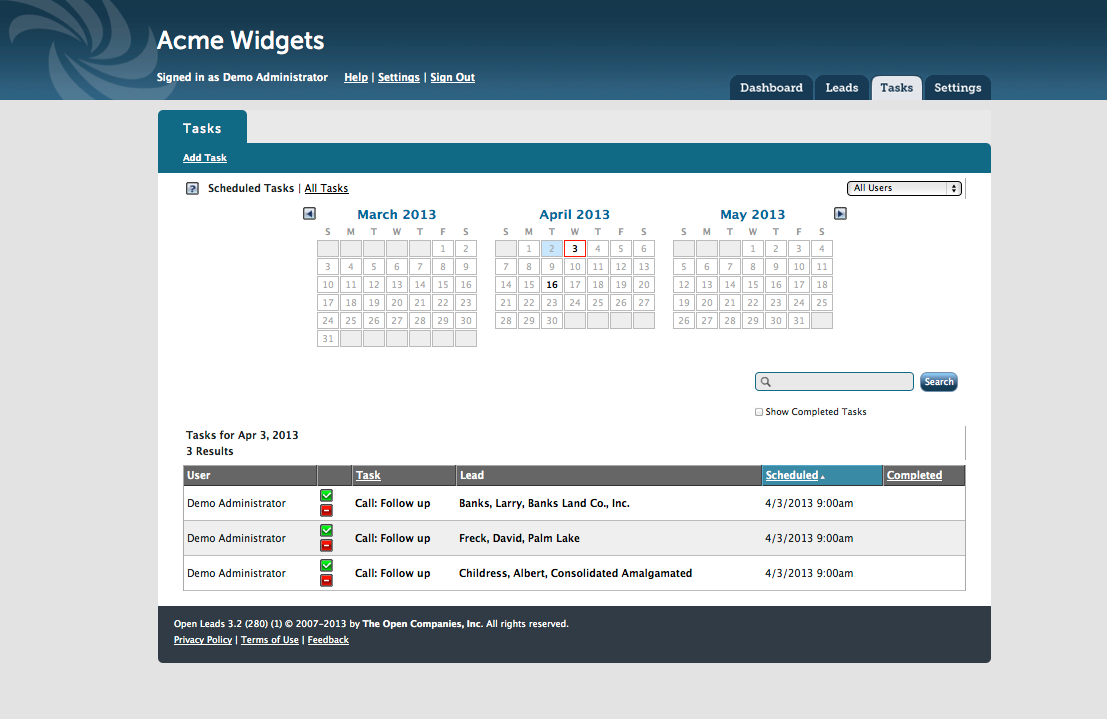 Tasks Tab: your daily "to-do" list
The Task Tab is your quick view of your Open Leads Tasks or your online "To-Do" List.
The calendar displays the selected day or days in a red outline. Any days with Tasks scheduled are displayed in bold. Clicking on any day in the calendar will display the Task list for that day directly below in the Task List. To select your Task List for multiple days, simply click on the first day in the range you wish to select, and then Shift+Click the end date.  You may toggle to view a complete list of all tasks by clicking the "All Tasks" link.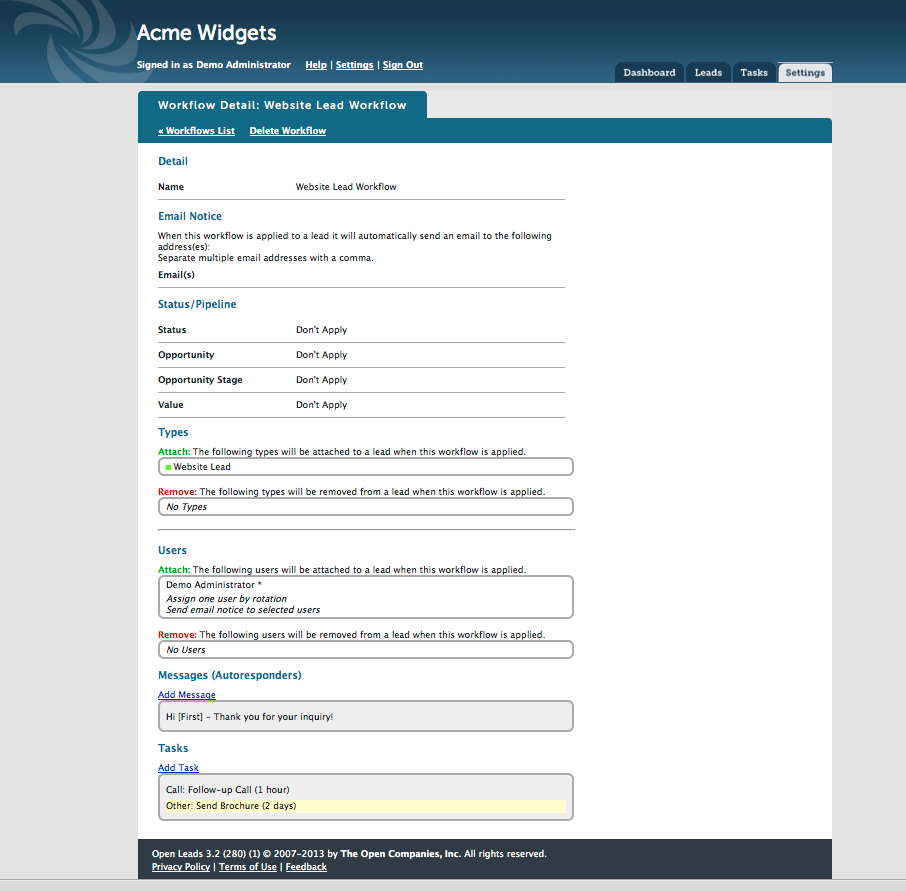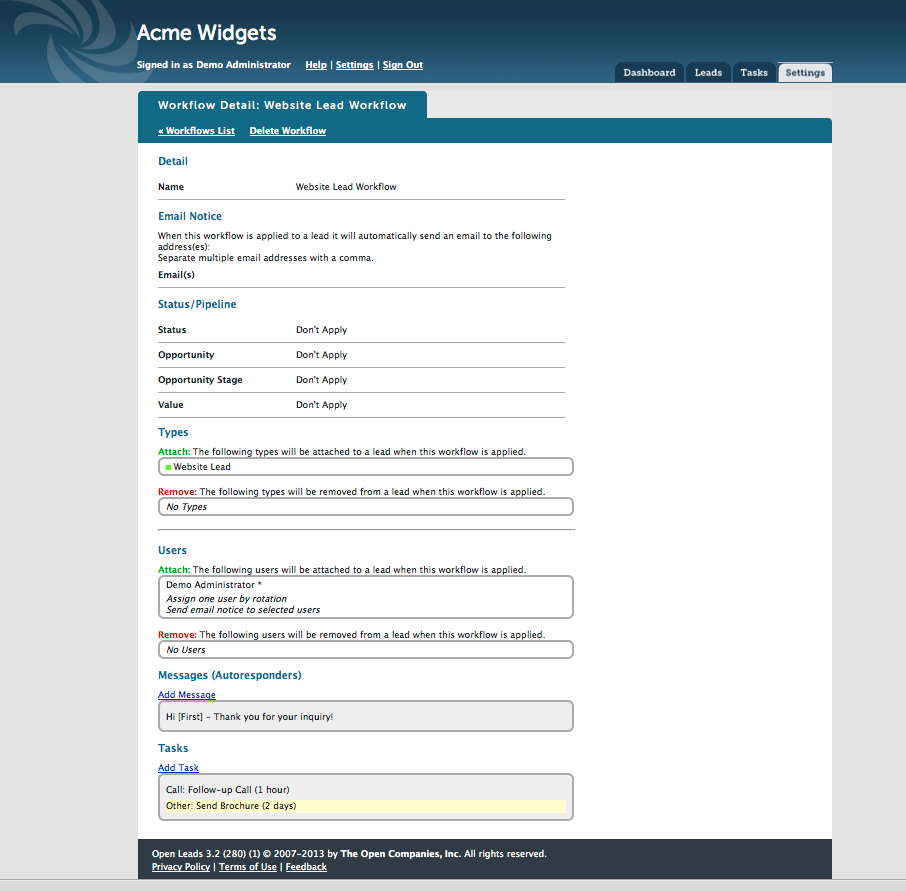 Workflows: control and automate multiple processes
A workflow is a device that allows you to automate much of your sales process. Setting up a workflow requires some work, planning and testing. However, once designed, a workflow can save you an endless amount of time and energy. This will help allow you to spend a majority of your time focusing on selling and doing the other things you need to do.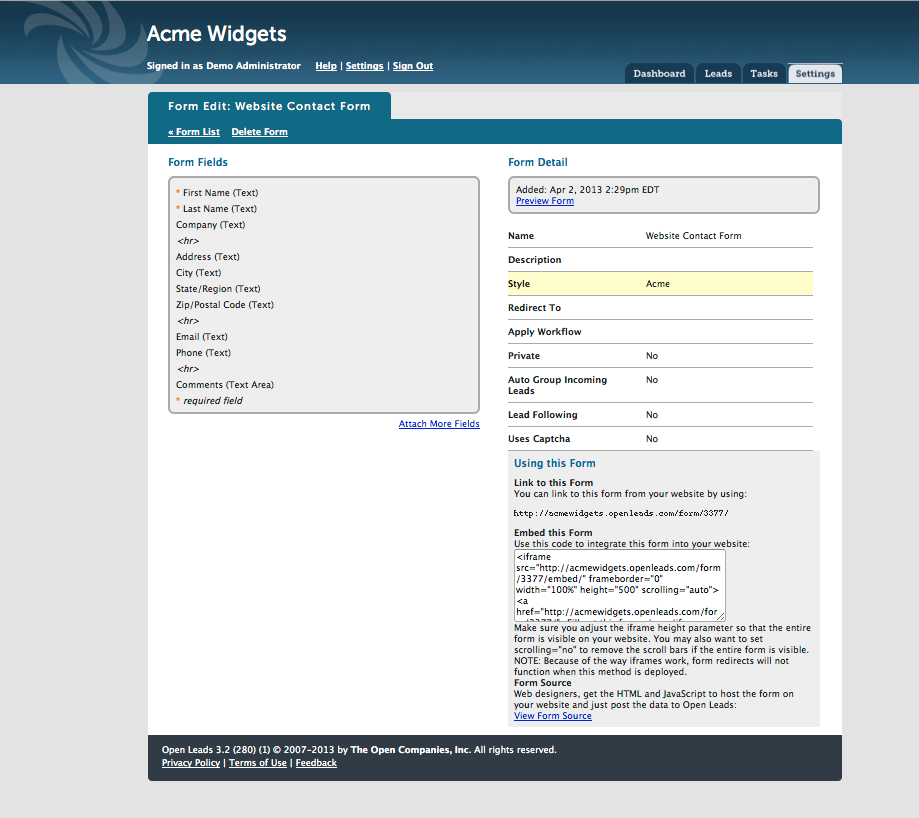 Create and deploy website forms in minutes
Create one or one hundred contact forms in Open Leads. Whether for "Contact Us" pages, sales inquiries, newsletter registrations, or any other purpose- simply choose your data fields in our simple on-screen editor. Enter your desired redirect page URL and choose an appropriate Workflow for application when a form is submitted. Copy and paste the automatically generated HTML or embed on your site within an iFrame.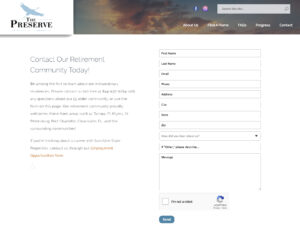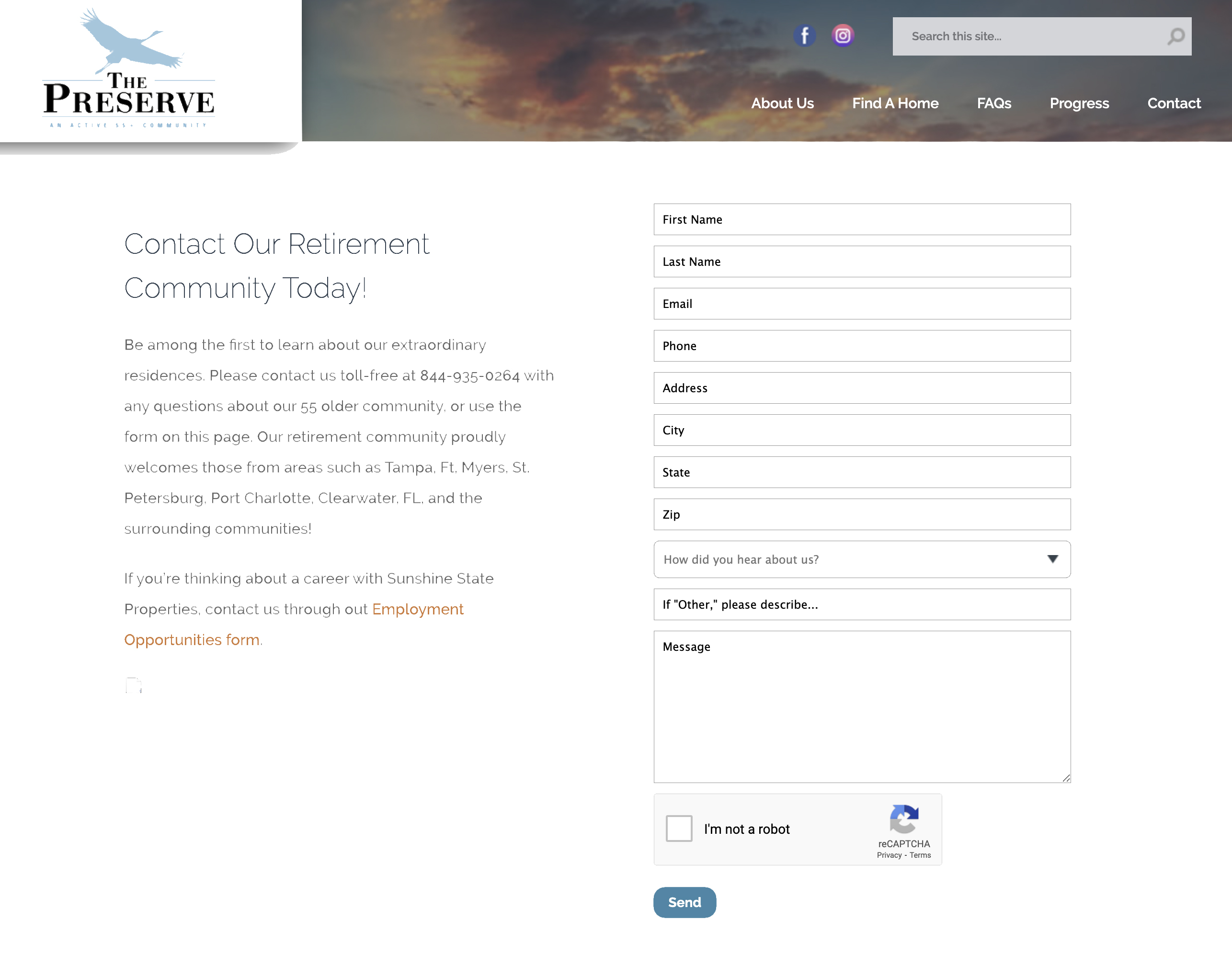 Fully integrated with your website
Our forms are 100% flexible in their layout and design, so you can easily match the look and feel of your website. Once the code is in place, the form functions the same as your previous form, but fully integrates Open Leads with your website, instantly posting form data into your account. Workflows triggered when forms are submitted send your autoresponder email, and begin the Lead nurturing process- assigning users, tasks and followup automatically.